Organic Banana Wholesalers
Are you looking for the best Organic Banana Wholesaler in Sydney?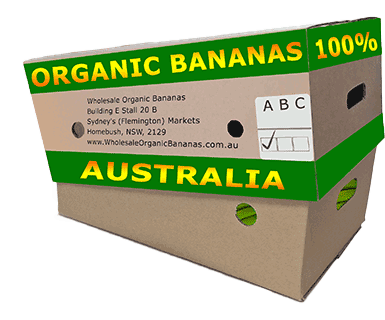 Congratulations, you have found us.
We are one of Sydney's leading Organic Banana Wholesalers and we are waiting for you to call us.
Minimum Order
** Minimum order is 1 full box of 1 specific banana type and pick up must be after 2am and before 11:45am Monday - Friday. This does not include mixed boxes. See conditions here
NO Mixed Boxes
We do not sell Mixed** Boxes.
When you buy 1 box of bananas, this means that you will only get that specific banana type in the box.
Please remember that we are Organic Banana Wholesalers.
Buying Multiple Boxes
You can however, buy multiple boxes of different banana types if you wish.
For example:
You can buy 1 - 100+ boxes of Organic Bananas "plus" 1 - 100+ boxes of Ducasse Bananas "plus" 1 - 100+ boxes of Plantain Bananas etc etc.
You are not limited by the number 100+ and you can buy many more if they are in stock.
In fact, you can buy Bananas by the Pallet load if you prefer.
*** Please Note that the above example is not limited to the specific bananas shown in the example.
*** Please Note that the "Organic" bananas are "Organic" but some of the other bananas we may have in storage may or may not also be organic. Please ask when you call us what organic bananas we currently have available.
So please ask before coming out.
Questions?
If you have any questions, please contact us [02 8006 8144] before coming out to our location in the Flemington Markets, Homebush NSW 2129.
** Mixed is defined as 1 box with different banana types in the same box.